Our young man is learning so many things so quickly! Here are the ones that I can think of: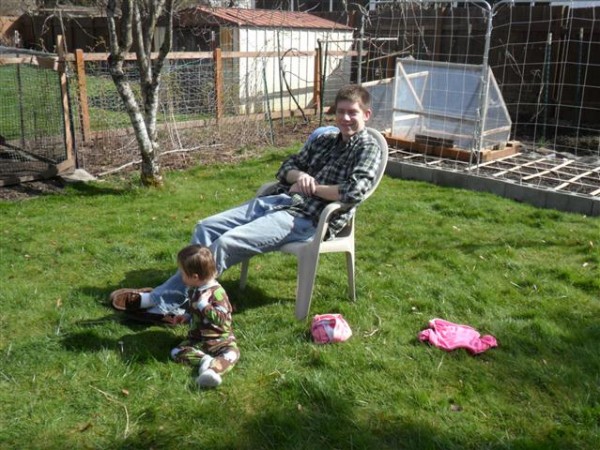 Pulling to stand – before coming home
Standing up without help – not sure….
Standing unassisted – began at one month home and has increased to being frequent at 4 months home
Walking steadily (sometimes)holding just one hand – Started around 3 months home
First steps – Right before 4 months home. Most steps are little shuffle steps forward, but they are totally on his own!
Crawling – before he came home
Crawling over bumps/up small step – at about 3 1/2 months home, he had a revelation… "I can go over stuff!" Not yet mastered, though.

Cries when scared – right away
Cries when hurt, worried, overwhelmed (in other words, he wants comfort from us!) – began after a month or two and is much more regular now at 4 months home
Cries to get attention – Started sometime after 3 months home
Seeks out positive interaction (whines, crawls onto your lap) – Also started at around 3 months home
Cried when he was left alone in the house – happened at 4 1/2 months home
Responds to gestures – picking up, playing, tickles – pretty quickly. He watches for your hands.


Drinks from a straw (noticed he doesn't choke or sputter at all with this!) – Just a couple weeks ago – 3 1/2 months home. And only from a special straw. But it will expand to normal straws soon! (4 1/2 months – drank from a juice box!)
Helps get dressed (pushes arms/legs into sleeves, anticipates which leg is first, etc.) – just noticing this – so about 3 months home
Pulls stuff from shelves – just starting this, about 4 months home
Eats from bottle – when he got home
Eats from a spoon – a week home
Eats from a spoon well (no gagging, choking, spilling, etc.)- 2 months home
Takes bites – Found something he wants to bite on! Graham cracker sticks at 4 1/2 months home.