Thursday
note: videos from yesterday are added on yesterday's blog. The one of Jordan giggling is especially sweet.
We skyped with the girls last night (their Wednesday morning) and they seemed to be doing well. This whole trip has been SO much easier, because we have been able to see their faces and greet them in their morning. Seeing pictures of them, seeing the rest of my family too, seeing that they are well… this has made the time apart much easier.
Today is a much more relaxed day, with only our visit this morning in the plan. That's a good thing too, because halfway through our visit with Jordan this morning, Brian was feeling very sick. He is laying under a sheet (which shouldn't be necessary in our warm room) resting and with a fever. He felt nauseous on the short drive back to our flat. We brought enough advil, I think, to help him for the next few days… please pray for him. Pray for rest, for the illness to run a quick course, for me to not get sick and above all, for God's will to be done in our lives.
This morning, after a breakfast of bread and jelly and showers, we talked more about adopting Vince. We will share our decision with you when we are more certain. The heaviest weights on the scale are these:
Seeing Jordan and imagining and observing the everyday care he is going to need… and thinking about having enough energy for him and for our girls… it seems wisest to not take on another child. Also, Jordan alone is a great joy and for him alone our trip here has been worthwhile. We are so eager to bring him home to be our son for the rest of our lives.
On the other end of the scale, seemingly impossible obstacles have been removed so that the path is clear to give a second child a family. How can we turn away from a child with no family? We know we would love him just as much as Jordan and that if we adopt him, then we would make a way.
We have been praying that God would give us peace with our decision and that we would not make our decision out of fear (fear of what could happen to him if he's not adopted, fear of what it would be like in our family if we did.). We are leaning very heavily on the TRUTH that GOd knows Vince, God loves him, and whether he comes home with us or not, he is not abandoned by God. At the very least, we will be doing everything we can to find him a family.
Our visit this morning was nice. We got there around 9:45 and saw him soon. It's nice to know where his room is now! He was in shorts and a tshirt today, because it is very hot… even in the shade. He has lots of little red spots on both of his thighs, with some bruising around them. It looks like they are from shots… I wonder if he has been getting antibiotics by shot several times a day for a few days? (He has been on a course of antibiotics for a cold.) Poor little guy!
He wanted to be down today and stood for awhile and walked holding our hands and even just one hand for a bit! With motivation and practice, he will walk soon. After awhile of interacting (he doesn't "play" with toys much, or respond to his name or even tapping him to get his interest, but you can still play with him and interact. It's hard to explain… but I think he will learn to play when he is in a family with no problem.)…. where was I?
After awhile of playing, he began to get tired and cranky. This was probably our longest visit yet. We put socks on his hands and that helped keep his fingers out of his mouth and he liked having his feet on the scratchy dry ground. And guess what?! He even crawled a bit! He has the coordination and strength to crawl where he wants. He doesn't crawl much, because he doesn't want to go places. I get the feeling that a few months of watching siblings will open up his world and before long we'll have to tell him "no."

Anyway, he began to get cranky and whine no matter what we tried. I began to bounce him while holding him on my knee and after five minutes of this, he fell asleep. He slept for 45 minutes, with much twitching and half-waking… but sleep just the same. All children are sweet when they sleep, but Jordan is particularly adorable. He woke up about ten minutes before lunch time and mostly stayed still, sucking on his fingers and looking drowsy. I'm glad he let me continue to hold him. He loved his lunch today – chicken and cabbage soup… and ate it much faster than the last few days. He cried when it was gone and I wished we could give him more. We put a little water in the bottle, but after a few gulps, he cried, disappointed it wasn't more lunch.
We carried him back to his room and waved goodbye to a kind caretaker who wished us well.
We are home now. Brian is sleeping… first under the sheets and now too hot for them.

I am resting and reading and typing up the blog of the day.
Tomorrow will be a different program. We'll say our farewells to our hostess first thing and pay her as well. Our last visit with Dani (Donny) will be from 8-8:30am. Then we will have to tell him goodbye for about the next six months. We'll head to the city where Vinnie's orphanage is next, which is about a 7 hour drive away. Elena or Chevdar will visit with him, take photos and ask questions. Then we will drive another two hours or so to our hotel near the airport. We'll have all day there Saturday and fly out on Sunday morning. I wonder if we will sleep on the airplane or not? I wonder if we will drive straight home from the airport with the girls or go to my parents for that night? I am trying not to worry that we will make our last flight. Our very last flight is due to leave just 1 hour and 20 minutes after our international flight takes off. Please pray that we make the connection!
Time for pictures!
Standing, sucking on his fingers: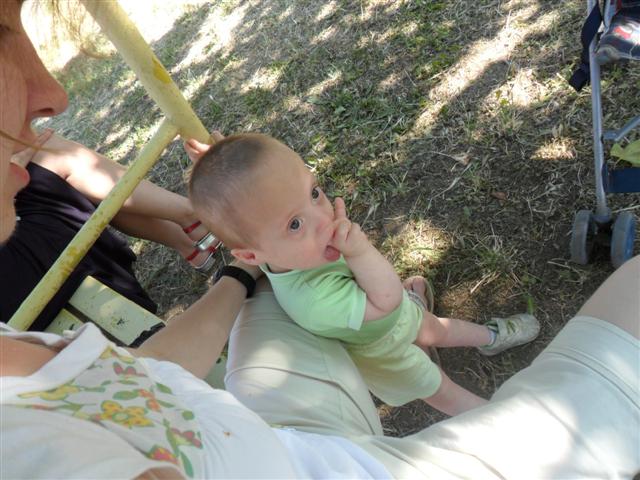 Who is taking whom for a walk?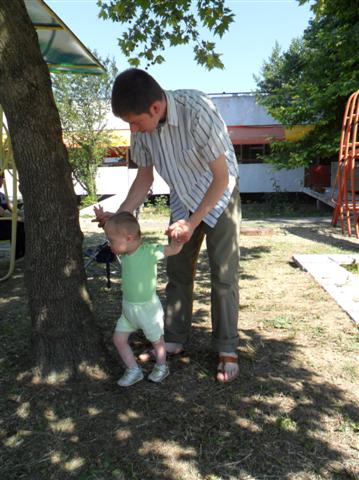 Poor little guy!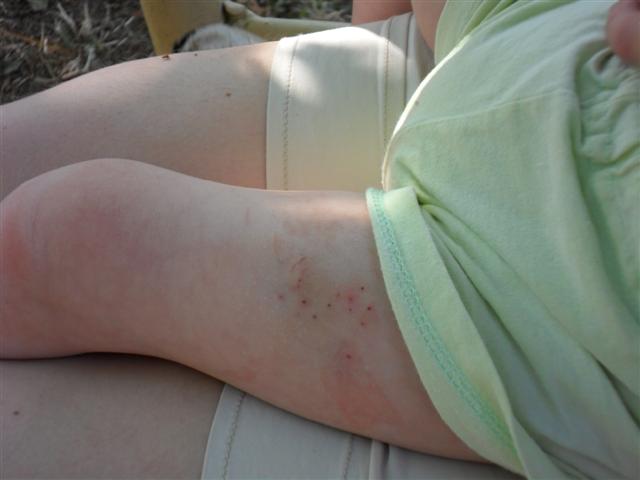 A little love: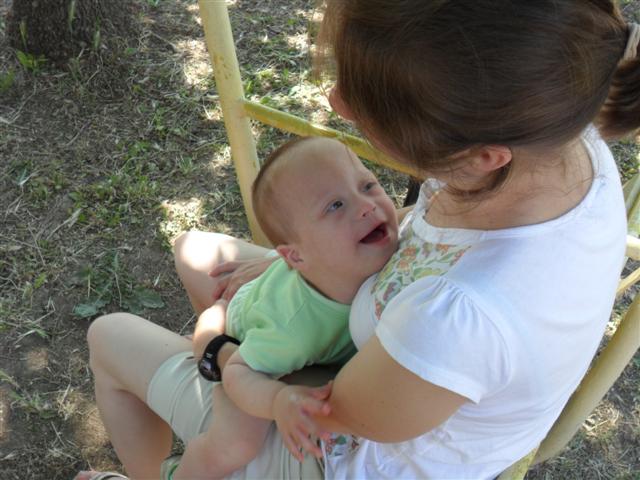 We measured him today. I can't remember how big he is… but I'd say a little bit bigger than Maggie, who is wearing 18-24 month clothes,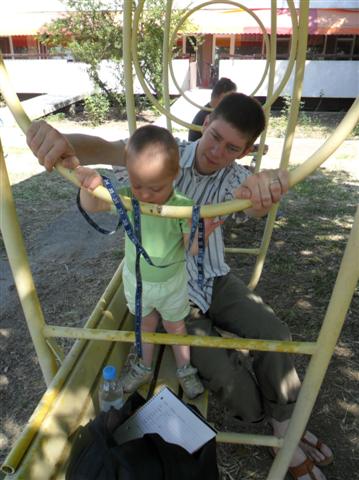 mostly.
The beach ball was fun for a little bit. He liked to put his face into it. (We didn't fill it all the way to make it more dynamic)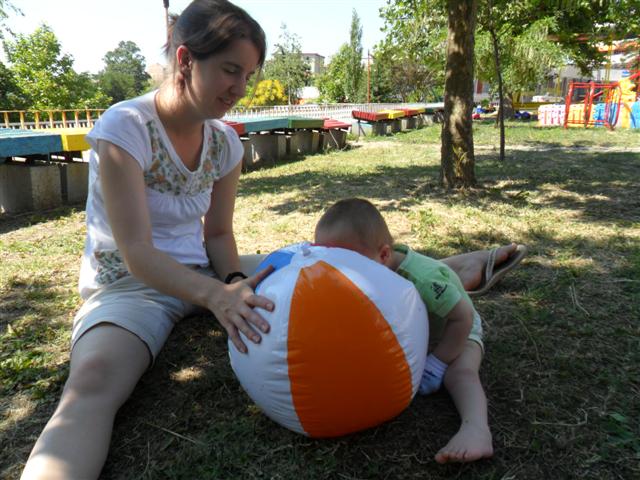 Push!

Getting tired…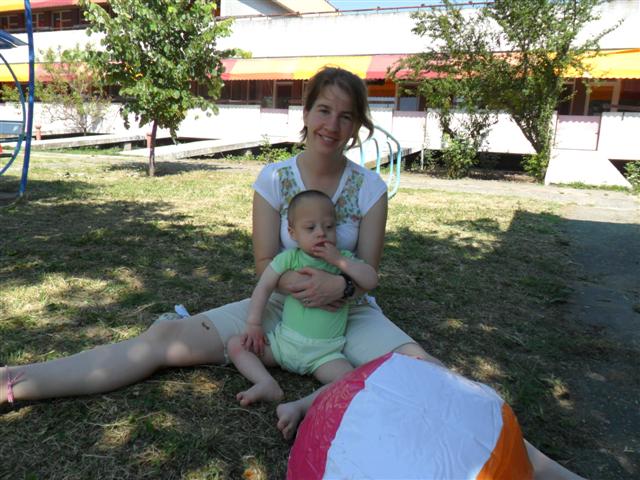 Sacked out (my back was very tired by the time he woke up!):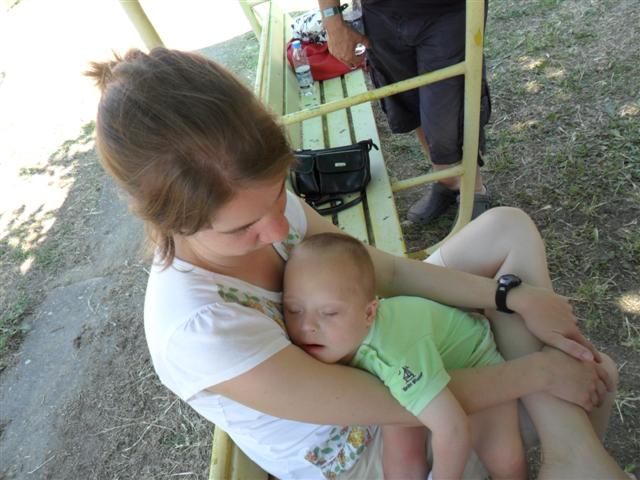 He can hold his own bottle… if he is laying down so he doesn't have to lift it. (the glass bottles are fairly heavy)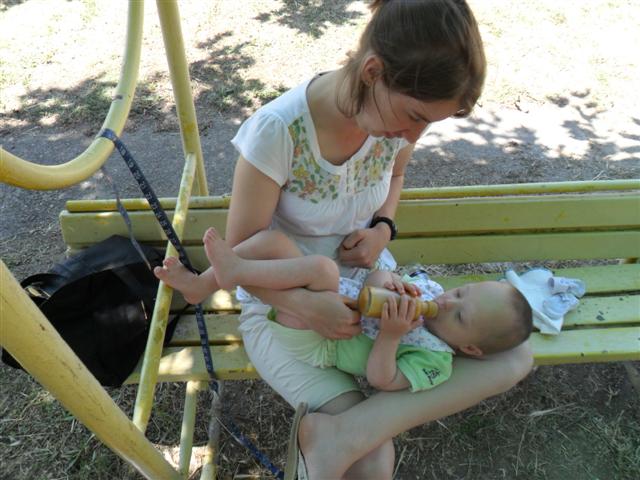 82 – walking

88 – standing on the bench

91 – crawling… even on the rough, scratching ground