Here is where we are so far.
We read a blog by a sweet mother named Adeye this summer (read here or here) who brought home two little angels from Eastern Europe. Hailee was five years old when they brought her home and she weighed just 16 lbs. We also "met" the Cornish family via their blog and saw some of the beautiful children they adopted. See here or here. We learned how children with special needs (mental or physical) in some countries struggle and die due to neglect after they are transferred to mental institutions.
We were introduced to Reece's Rainbow that helps to find children families with Down Syndrome and other special needs. We've heard God calling to adopt before. We've TRIED to adopt before. This time we believe God is ready to bring a child into our home. We are eagerly anticipating the blessing of a little one with Down Syndrome sometime in 2011. We are really excited to have our own link with Reece's Rainbow as we wait to find our who our new child will be.
Meanwhile, we are doing three main things:
1. Living our life and loving our girls
2. Researching and learning about the special parenting needs our child(ren) will have
3. Chasing adoption paperwork stacks
Here are the stages of our adoption:
Complete homestudy (almost done)
FBI background checks – take about 12 weeks (about 5 weeks in to that)
USCIS (immigration approval) – takes about 12 weeks, but praying it's shorter – will submit this application soon
THEN it gets a bit fuzzy for me. While we're waiting for the USCIS to come back, we're gathering a large stack of paperwork that has to be notarized and apostilled (another type of certification) called a dossier. The dossier will be sent to the country we're adopting from (which I won't mention on this public blog). The dossier includes things like medicals, taxes, homestudy, etc.
We don't know when we'll know who we're adopting. It could be any day, really. If we don't have a referral when we submit our dossier, then we will have a waiting period after submitting the dossier while the find a child's file for us. We know the children are there waiting, but due to the way their file system works, only one agency gets a child's file at a time and our agency doesn't have OUR child yet.

All we know about our new baby is that they will be under age 3 at the time of referral and have a diagnosis of Down Syndrome. We can't wait to meet them and hold them!
Meanwhile, we are also working on creating a ministry with our church that supports adoption and other orphan ministries. We're trying to be the gathering point for the other (many) adoptive families in our church body and are hoping to encourage and help each other and families who are wanting to know more about adoption.
Ok, that was probably clear as mud, but my lunch is getting cold on the table and it's time for me to go! Feel free to email us!
P.s. Brian will soon have an email link and a couple other links for you on the sidebar
Now for pictures!
Watching movies from when Anna was a toddler with Grandpa.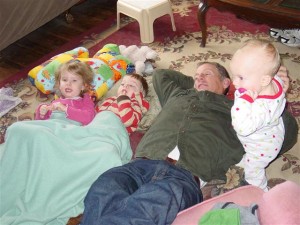 My dad and his oldest grandchildren: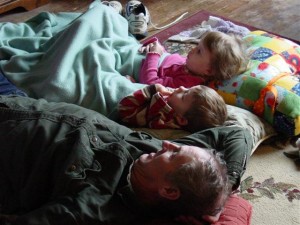 Maggie is seeing Christmas for the "first" time (she was two months old last year):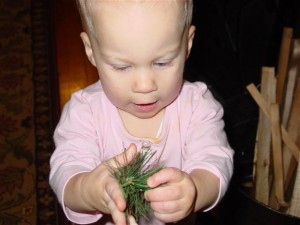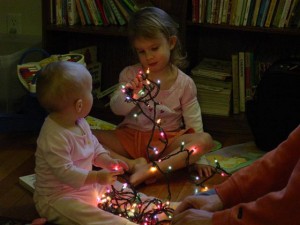 We got our Christmas tree! Brian put lights up on Friday night and on Saturday morning Anna's friend came over and Great Grandma and Grandpa Davis! We had SO much fun! The girls were precious. It was so GOOD for us to watch Christmas through their young eyes. We had yummy food and baked cookies too.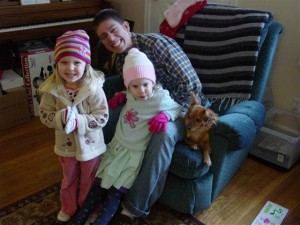 Maggie and Gran: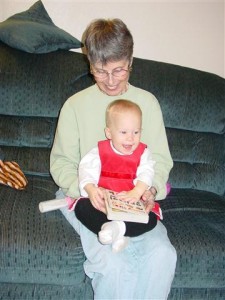 Choosing a tree: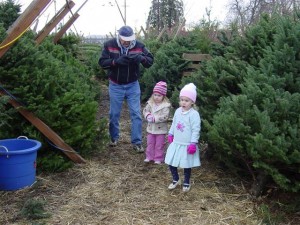 Having SO MUCH FUN putting ornaments on the tree. The tree looked like it might fall over from all of them being in one spot. Anna hasn't stopped rearranging them since.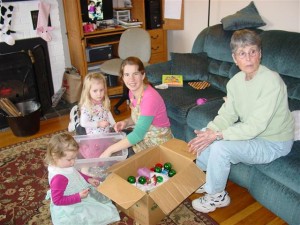 Maggie went to nap with no tree and came out to a decorated wonder!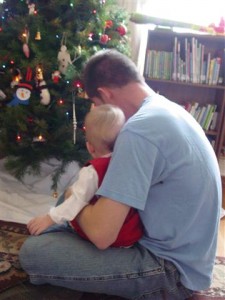 Cookies: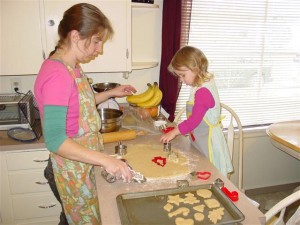 Finding hidden pictures in the "Where's Santa?" book for a full hour: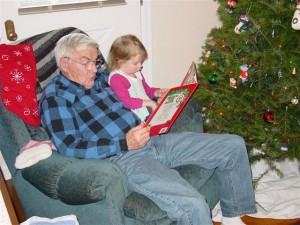 She might have tripped, but she's happy!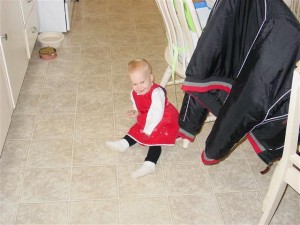 here's a video!