It's almost noon here and Brian is reading Harry Potter while I upload videos of Vinnie to email to the Reece's Rainbow team. (Hopefully, you will see an update from our visit with Vinnie on his profile here: http://reecesrainbow.org/vinnie-21-6 I'm sorry, but I can't share his videos here.
After falling in love with him, after much prayer and tears… we are not going to be bringing this sweet little boy home with us. Back when we committed to James and then to Jordan, we very clearly felt God's guidance to both of those boys. We had no idea how we would manage life in our house with four very young people, but we had God's reassurance that this was His will and he would make it possible. Now that He has taken James home, He has not told us to bring home Vinnie. What we hear when we ask God if we can bring home Vinnie is, "You can trust him to Me."
So it's with desperate faith that God will be with Vinnie, that we are leaving without committing to him. It is our deepest desire to see Vinnie find his mother and father. We hope that the videos and the update we received from the orphanage staff and pediatrician will help a family be able to make the leap for him. We have no doubt that he would make a fantastic son. He is quite healthy, active, and eating well. He is very small, but that is perhaps because he reacts to lactose (with constipation) but is a good eater just the same. Please, somebody, come for Vinnie!
….
And now, I'll try to update you on the happenings of Friday and Saturday. These get harder to write as I get closer to home. All I want is to climb on that horrid airplane and get back home. We are ready for home-cooked food. We are ready for our own beds and shower. We are ready to be where English is the primary language. We are ready to be done traveling. More than anything, though, we need to be back with our girls.
Yesterday morning we packed up early and ate a little toast and jam. Or, I did anyway. Brian had thrown up for a few hours and finally fell asleep. He woke up feeling not so great, but without a fever and hasn't had a fever or thrown up since. Hopefully within a few days he'll be back to normal, but we are sooooo grateful that he is doing as well as he is!
We said our farewells to Nina and to Tiko as well over the phone. We got to see Jordan around 8am and he was bright eyed and chipper, looking like a little boy who had just gotten up from a good night's rest. We visited for about half an hour and then it was time to say goodbye. They let me carry him to his crib, where I leaned over and told him, "Ciao, Dancho." He was content to just sit as I began to cry and hurried away.
Everybody was very kind, telling me not to cry and letting us know that this is one of the biggest and best orphanages in the country. They said that his photo album will be moved near his crib (hope it makes it into the crib someday) and his doggy will stay in the crib. The orphanage staff like that we brought the doggy and think it is a good idea for helping him transition.
We piled in the van and began the 7ish hour drive to Vinnie's orphanage. It was between 90 and 100 degrees in Vinnie's city when we arrived that afternoon around 4pm. (long drive plus lunch plus potty stops) Brian and I had been able to nap a little in the car. We waited in the hot city for awhile until Chevdar and Elena came back out. They had taken several videos… and they had also told the orphanage staff that we were Vinnie's mama and papa and at least one looked out at us.
If I haven't been clear… it has been incredibly hard to NOT be bringing this little boy home. Nothing will comfort my heart like seeing him with a family. For now, I focus on our Jordan and I lean on God's love for Vinnie, which is even greater than mine.
From there, we finished the drive back to the capital, arriving around 6:30pm. We checked in, unloaded, Skyped with the girls and Brian's mom and talked and prayed over Vinnie again until we were sure that we are making the right decision. The only thing I dread now, is telling them that we are not his family and for the disappointment they will feel at the orphanage for him.
We are committing to help raise $4000 or more to help Vinnie's family bring him home. $4000 is how much money we would have had to come up with to adopt Vinnie ourselves (although that would have been reimbursed to a point with the federal adoption tax credit.). If our love for Vinnie inspires you to sponsor his adoption grant at Reece's Rainbow, please let us know. We will be setting up a chipin on our blog at some point, because we don't have the $4000 to donate already. Again, his Reece's Rainbow page is http://reecesrainbow.org/vinnie-21-6
We love you all. We'll be taking a walk around the city today and trying to catch up a bit. The day is passing by quickly. We look forward to being home with you all!
Goodbye view: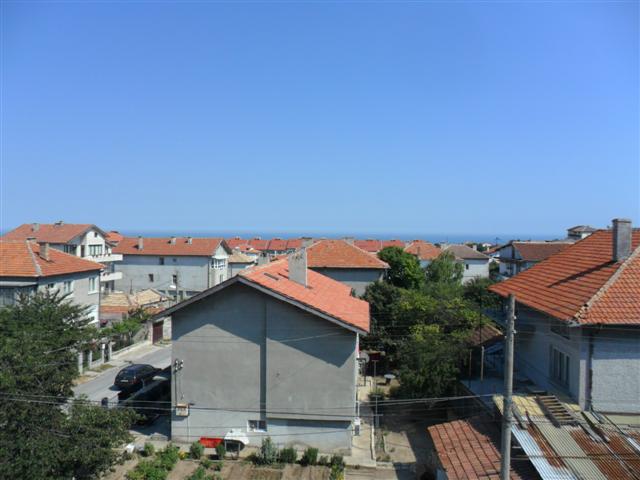 Goodbye sweet boy: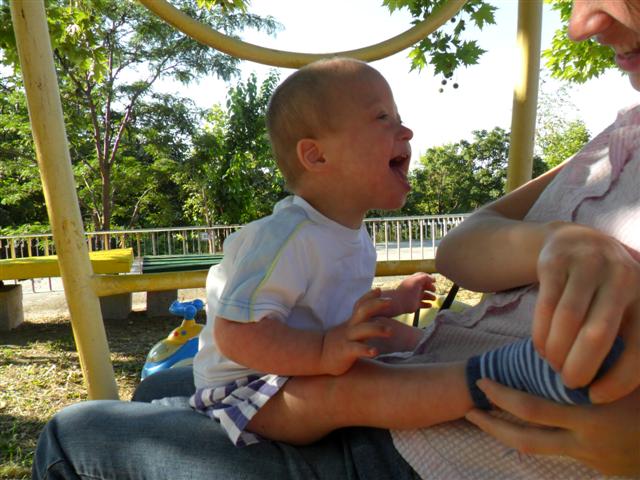 Until this winter, my son: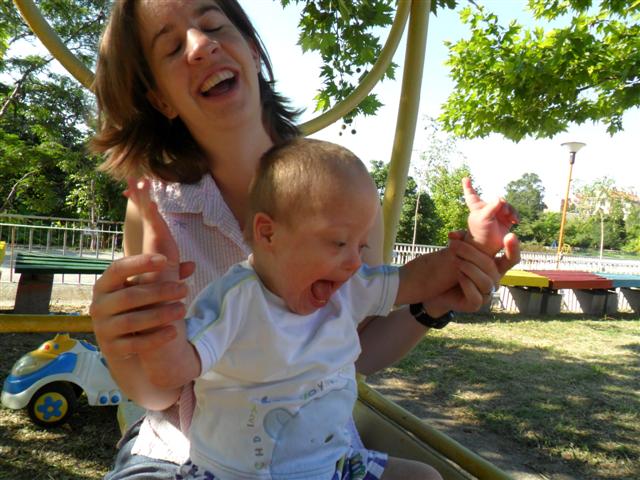 Goodbye, endless fields of sunflowers: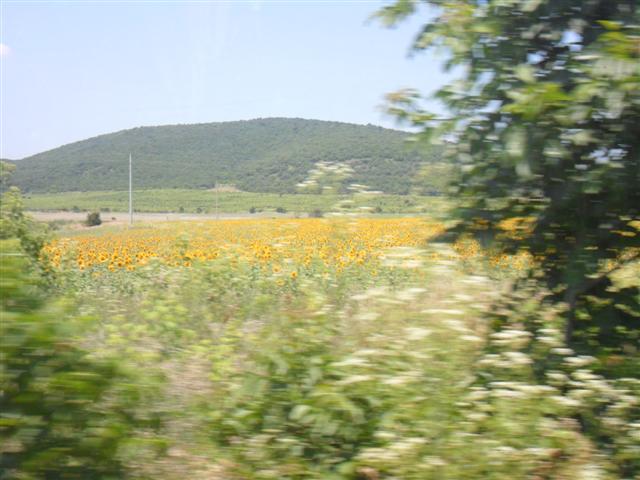 Goodbye, reckless passing cars: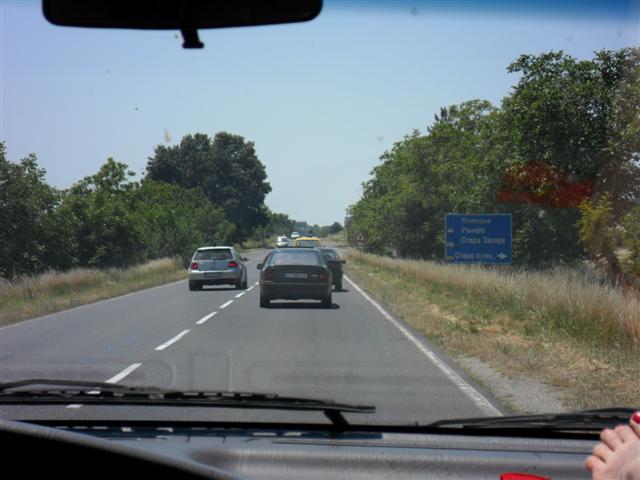 Future blog posts:
Misconception about seatbelts, smiling, nodding and clothing here.
How to eat a meal.
Children and belching.
Number of words necessary.
How to find things.
And drivers, and their lifespans.