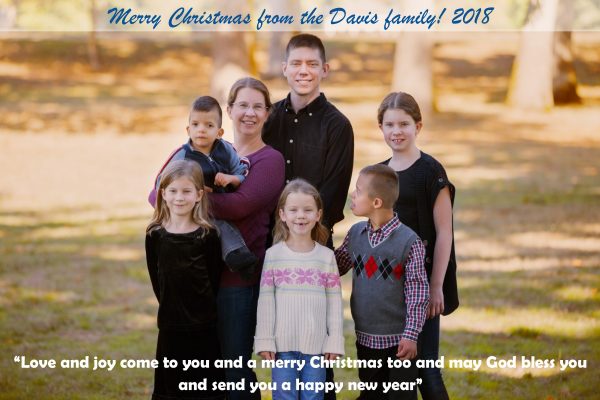 December 11, 2018
I wanted to include a Christmas letter with our photo…. so here I go – gonna write one:
5-year-old Daniel has locked himself in his walk-in-closet bedroom with a toy that is teaching him his letters and letter sounds in the most obnoxious way possible with plenty of repetition and tinny music. Jordan (age 9) is laying on his stomach with his face over the heater vent. The heater isn't on… I don't know if he's feeling cold air come out of there or if he's just waiting. The pellet stove is running in an attempt to prevent potential $400+ heat bills of our glorious mossy mansion, so his waiting is futile if that's what he's doing.
I started some bread dough this morning, because fresh bread on winter days is awesome.
*interruption to figure out why Maggie isn't doing her schoolwork. She was just distracted. Got her started on a writing assignment and a cursive assignment.*
Back to bread-making. I need to get that dough into balls, because I want rolls instead of a loaf (because slicing bread is too much work?). But the counter is dirty and I don't have socks on, so the crumbs on the floor are going to stick to my feet and that drives me nuts. So then I'd need to sweep. And then do the bread thing and then there's going to be flour on the floor so I have to sweep again. Oh, and the counter is cluttered and dirty. So the jury is still out on the fate of the bread dough.
Anna is 11 years old and doing her 6th grade schoolwork downstairs. Or in her bedroom. I'm not really sure where she took it. But she's a strange child who likes her grammar homework and finished all her chores without being told. Strange, but wonderful. She's a huge fan of the art class the three girls are doing weekly and… oh yeah, I need to give them time to do art homework. Maybe after lunch?
*interruption to tell Maggie to stop goofing off so loudly that I can hear her from across the house and to do the assignments she picked out.*
Carolyn (age 6) is almost done with her first grade homework for the day and looking darling and altogether too grown up with her hair cut shoulder length. I asked her what kind of Christmas dessert we should make (sometime between now and New Year's presumably, but we'll see what happens) and she had no trouble at all picking out Sugar Cookies with frosting. I asked Maggie (age 9) the same question, but she wanted to tell me the things she calls the kinds of desserts instead of telling me which one she wants me to make. She calls Molasses cookies "sugar cookies" because the dough is rolled in sugar. She calls the Sugar cookies "Christmas cookies" because they're supposed to be made at Christmas. And then she told me she wanted the Cinnamon Rolls, so we did get there eventually.
We finally finished the last of the doctor appointments for the year yesterday. Maggie and Daniel were last up for pediatrician. Daniel is over 29 pounds…. that's a 10 pound gain since when we adopted him a year ago. That gives me a great deal of pride, pleasure and a sore back too. Thankfully, he almost always uses his wheelchair when we're out and about, because his chunky, slippery, distractible self is hard to carry for very long. Maggie is following her own growth curve (the 3rd percentile?) and is closing in on 50 pounds. She absorbed herself with Brian's old mp3 music player and some books while the doctor and I talked.
Next year, the girls will continue with co-op on Fridays, art on Thursdays, boring school Monday-Wednesday (that's the way they'd explain it), and recoup/recover/catch up on the weekends with Brian when he's not working to pay the bills. He's still working from home twice a week, which is the reason I'm only seeing a counselor bi-weekly. His work is stable and he continues to become more senior in his projects, though he decided a few years ago he didn't want to get into management and to stick with engineering. I think he gets enough politics and emotions here at home. Seems like a rational decision to stick with managing inanimate objects instead of people.
All the kids are home with me except when they're out with me. I'm clearly getting good at this letter-writing stuff! Daniel's learning and developing and Jordan's pretty stable, so we're doing what we can to keep that up… limiting excess activity and mostly capitalizing on the pleasures of a simple life. I have a helper for Jordan 1-2 times a week and that's released a major pressure point in our family and permitted outings every week with the other kids and more time for me to exercise. I am not a huge fan of exercising in general, but I love going for walks outside and extending the amount of time that I can jog.
All the kids are really active too… both physically and creatively. Maggie usually spearheads imagination-based games that involve packing bags and supplies and building forts and making the weirdest messes. I still don't know why she decided to use rubber gloves to store water (a canteen???) or what the pile of garbage "rescued" from the recycling can is for. Anna's busy inventing an elaborate treasure hunt (with clues and map and story line) for her siblings and cousins come Christmas. Carolyn plays equally well with both her sisters (and sometimes brothers) and it's fun to see her developing her personal interests even as she spends most of the time following and engaging in her older sisters' inventions. Daniel still loves music and being silly and just discovered Mr. Rogers Neighborhood. Jordan likes to go walking outside, swing on his swing and play "Where did mom hide the cheerios in the play room."
My bathtub is full of gifts covered with towels. My desk has a stuffed cat on it that needs its leg sewn on. I'm eating chocolate covered raisins. And my feet are cold.
Merry Christmas!!!!
The Davises