Brian, Rachel, Anna (04/2007), Jordan (05/2009 – home 12/2011), Maggie (10/2009), and Carolyn (19/15/12):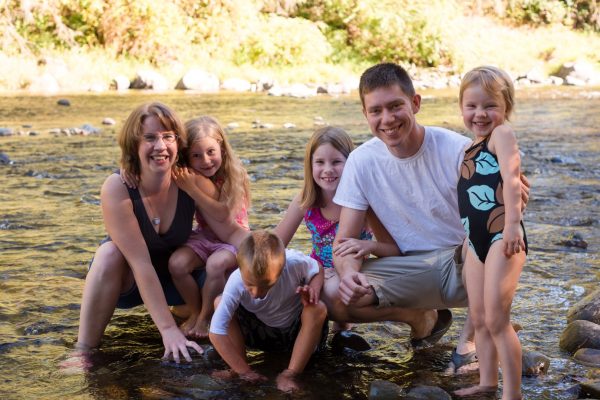 The kids:
Anna – born 04/2007 – Princess. Big sister and reliable helper. Minecraft-player. Explorer. Favorite color: purple. Bright and quick. Born at home after an 18 hour labor. My first treasure from God. Dancer.
Maggie (Margaret) – born 10/2009 – Laughter. Fun-loving, determined, climber. Thrill seeker. Favorite color: shiny black Born at home after a 3.5 hour labor with my sweet midwives. Passionate. Future black belt.
James (Reece's Rainbow name "Seamus")- born 07/2009 – Chubby cheeks. Learning to crawl. Left his orphanage home to go home forever with Jesus on June 10, 2011.
Jordan (Reece's Rainbow name Jay) – born 05/2009, home 12/2011 – Handsome first son. Learning to run, play, smile, love and be loved. Chases his sisters.
Carolyn: – 09/2012 – a joyful surprise we learned about one month (to the day) after Jordan arrived home. Sweet and determined, deliberate and confident. Born after a 1 hour labor. Ruler of her own empire.
Our Story:
Brian and I met at youth group while we were still in high school and dated for a year and a half before we got married in 2005 at the ripe age of 21. My life has never been so fulfilled. Every day with Brian is fuller, is more complete and is stronger, happier and full of hope and passion. We have such dreams together! We have three beautiful daughters, born 04/2007, 10/2009, and 09/2012. We have one very loved son who was born in Bulgaria in 05/2009 and arrived home in 12/2011. We don't know if we're "finished" yet or not… we'll get back to you on that.
Different things I've been passionate about over the years, in loosely chronological order: horses, trail riding, being an early-bird, being a nurse (nope, never actually pursued a nursing degree), getting good grades, leather craftsmanship (saddle-making, etc.), weddings, marriage, how I never want to be in sales again, housekeeping, gardening, cooking, happy pregnancy, home birth, colic cures (not really, i never found one), laughter, friends, foster care, children in foster care, organ donation, home birth again, stay-at-home-parenting, adoption, special needs, family, international adoption, love… oh and that led to home birth again! Busy homeschooling, raising chickens, and dreaming/hoping/praying to be able to garden this summer!
You can find out more about our adoption of Jordan by:
Viewing the FAQ page, where most things are summarized
Clicking the "Bulgaria" tag to see blogs posted while we were in Bulgaria
Clicking "Down Syndrome", "Jordan", "Attachment", Adoption and "Adoption Awareness" in the tag cloud.