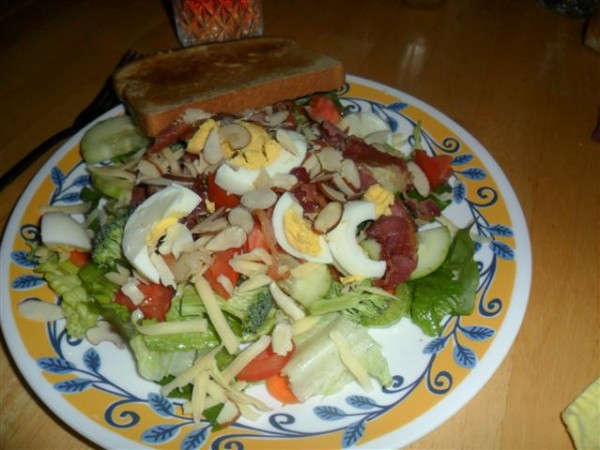 Just because.
May 2015 is what my paper says at the top. I make a sheet like this every month. I only need to make one soup for Jordan this month since he has so much left over from last month. It'll be Carrot Soup this time. People who want the recipes for LARGE pots of hearty soups, please comment or email me… I keep meaning to grab my favorite recipes and type them up for you. No, I don't remember who you are.
Then I have 15 meals and two bonus items. I'll shop and buy all the ingredients in one day. Except the produce, which I'll just get 1-2 weeks worth of. That's the trickiest bit… aside from remembering to thaw frozen meat on the right days, that is.
Ok – here ya go – heavy on the salads this month. Maybe I'll lose the 20 pounds I've gained. Most of these dishes are new to me.
1. Taco Salad
2. Baked Chicken Chimichangas
3. Cheesy Chicken & Wild Rice Casserole
4. Spinach & Chicken Quesadillas (this one has been on my list for two months already – maybe I'll actually make it this time)
5. Southwestern Chopped Salad
6. Crunchy Cashew Thai Quinoa Salad…
7. Broccoli Corn Salad
8. Rainbow Chicken Salad…
9. Strawberry, Quinoa, Spinach & Cashew Salad
10. Tacos
11. Chicken Thighs, potatoes, cooked veggies
12. Hasenpfeffer (Rabbit Stew) – We were given two rabbits from my uncle!
13. Roasted Rabbit with Chorizo & Potatoes (It must be good – it's in a different language!)
14. Chipotle's Copycat Barbacoa
15. Restaurant Style Mongolian Beef
Bonus Items:
Cherry pie (I have frozen cherries)
Granola
Brownie Cookies